Current Activities - 2022
Ardenwood Farm Regional Preserve is open for the season and starting on April 1st we are operating trains behind our Plymouth Switcher 'Katie' pulling excursion cars WSLCo 5 and WSLCo 318, and our historic picnic car NS 1725.
A lot of work has already been completed this Spring:
Historic narrow gauge steam locomotive Argent #5 arrived at its new home at Ardenwood Historic Farm on May21, 2022. This 26-ton, 2-6-2 (Prairie) steam locomotive was built by Lima Locomotive Works in 1910 for the Williamson & Brown Land and Lumber Company. It was sold in 1916 to the Argent Lumber Company Railroad of Hardeville, South Carolina where it operated until 1956. Since 2013 the locomotive has been on loan to the Nevada County Narrow Gauge Railroad Museum. The locomotive has now been purchased by two individuals and they have leased Argent #5 to the SPCRR where it will eventually be operated at Ardenwood. Argent #5 is already close to being operational, but several tasks need to be done first. We need to convert it from burning wood to using oil (burning wood is a fire danger especially since our track runs through a eucalyptus grove); it needs a new tender, and the boiler needs to have lagging and a jacket installed. We expect this work to take about 2-4 years.You can see the locomotive later this year at SPCRR's annual Rail Fair over the Labor Day weekend, September 3-5, 2022. More information on Rail Fair and how to purchase advanced tickets will be posted on our Facebook page and on our website

www.spcrr.org

.
Picnic car NS 1725 has been repainted a light brown -this is closer to the unpainted wood that was probably used historically..


New wooden bench seats have been installed on Excursion cars WSLCo 5 and WSLCo 318.

All operations cars have been restored to link and pin couplers after state approval. This will stop the 'impact' stress that happens when using knuckle-couplers to couple cars.

Our mainline track has been extended from the carbarn towards the farmyard and a return track has been built from the end of the mainline to the existing main line between Deer Park and the old William Patterson Station site. This has created a loop track.
Operations will commence on the new loop in the July time frame making a much longer ride..
A State of California DOSH/PAR inspection and certification of our track and operating train was completed on all track (except storage sidings).
AND we still have a lot of work going on--
Restoration continues on Caboose NWP 6101. The car has had the needle beams, bolsters, and truss rods replaced, the outer sills and framing strengthened, been completely resided with tongue-and groove siding. The brakes and draft gear are being repaired.
Our first mechanical engine (ASARCO 4 a1939 Whitcomb 12 ton diesel that we originally got from Paramount Great America) has returned after being sold. It is getting a full rebuild after spending 10 years on Kauai and at Roaring Camp. We hope to have it in service later this year. This engine is leased from Rother Locomotives.
Operations:
2022 Operations are complete. The train carried 65,000 passenger trips in 2022. 2023 Operations start March 30, 2023 -- Passenger trains will run on Thursdays, Fridays, Sundays, and on special event days.
Restoration:
The current car in active restoration is caboose NWP 6101.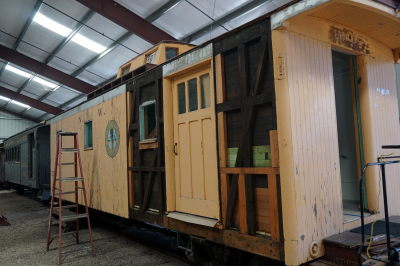 to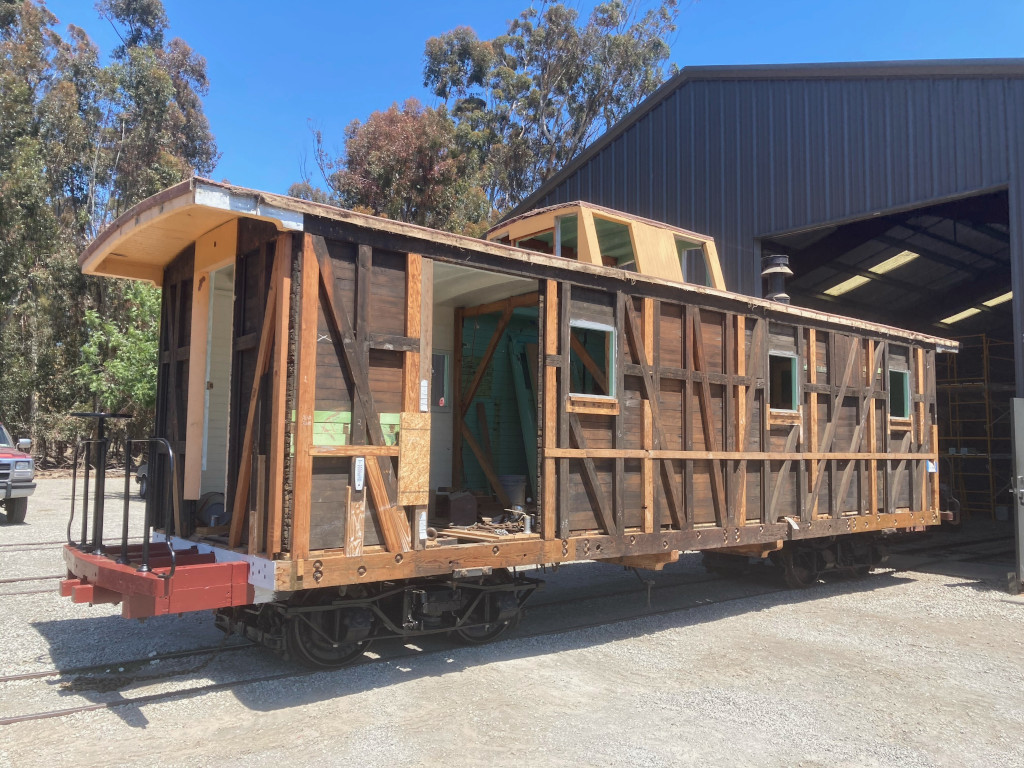 to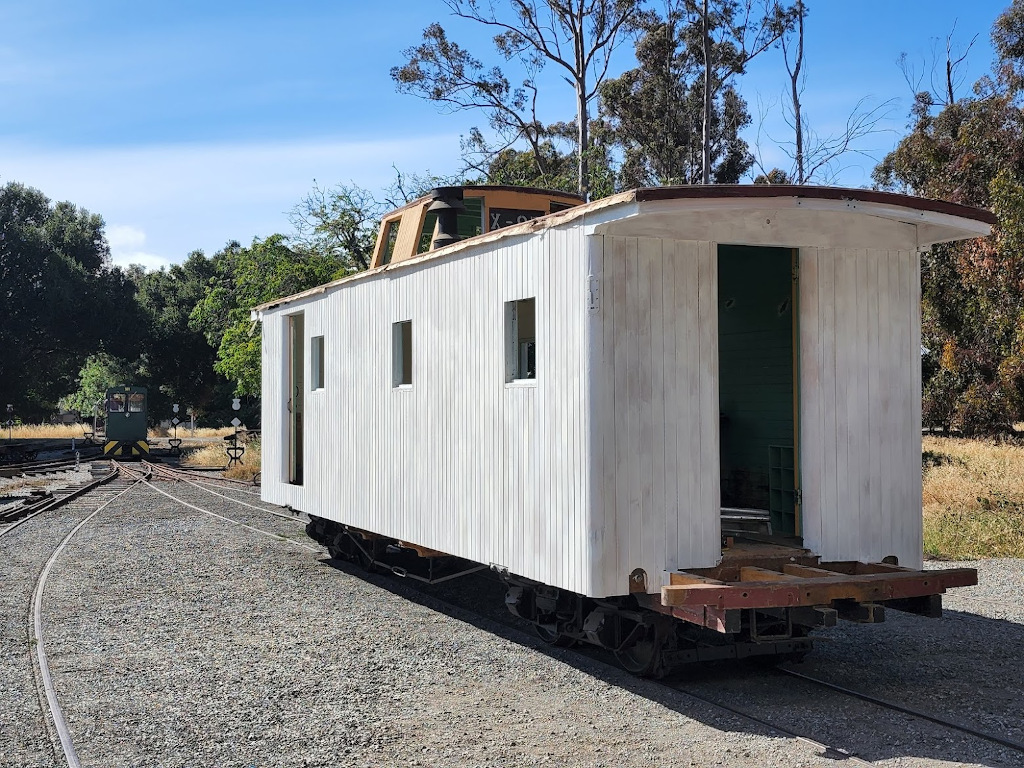 to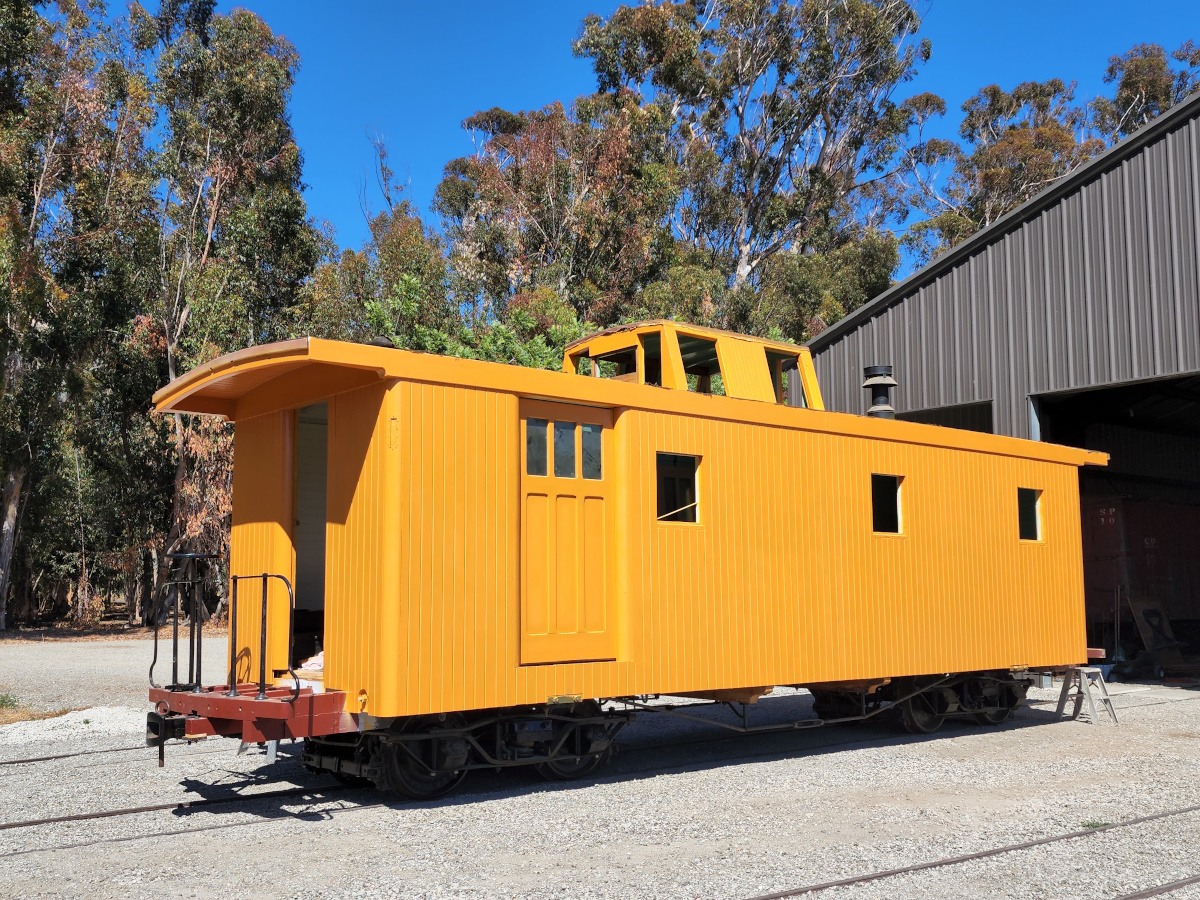 Next steps on this car include installing windows, doors, repairing the roof, installing the airbrakes, flooring the car, rebuilding the end platforms and steps, adding couplers, installing iron railings, ladders, and grab bars, and of course lettering the car as it was in 1910.
Surveys are being made and restoration plans are being created for combination car SPC 47 and for boxcar NC 253. These plans are essential to understand how and what kind of restoration should be done to these extremely significant cars. SPC 47's survey is now in progress using archaeological techniques and has identified significant modifications to the layout of the car over the years.
Work days:
Scheduled workdays are typically the third Sunday of the Month and most Mondays throughout the year. If you are interested in the workdays, contact the Curator at curator@spcrr.org.
Maintenance of Way workdays are typically held every Sunday. Contact the MOW Manager at MOW-Managager@spcrr.org for more information.
---
---