Current Activities - Spring/Summer 2018
Trains start operating (May 24, 2018) on Thursdays, Fridays, and Sundays - plus special events.
Ardenwood Farm Regional Preserve is open for the season and starting on May 25th we will be operating trains behind our recently rebuilt Plymouth Switcher 'Katie' pulling refurbished excursion cars WSLCo 5 and WSLCo 318.

A lot of work has already been completed this Spring:

WSLCo excursion cars 5 and 318 have been refurbished. These cars are leased.


They have been painted Pullman green and lettered.
Air brakes have been refurbished and hand brakes installed. The brakes were inspected and certified.
The car platforms and steps were repaired and strengthened.

SPCRR1 (Katie) has had it's original gasoline engine replaced with a diesel engine and has had an air pump, brake controls, and air pipes added. This was a significant activity funded by a grant from a member.
A Case frontloader tractor has been put into service, this tractor was also acquired from a grant from a member.
The mainline track through the Deer Park area was relaid and reballasted.
The mainline track from the Ardenwood Station to East Deer Park Switch underwent significant maintenance with the replacement of many damaged ties, respiking, and joint bar tightening.
The Ardenwood Station platform was re-decked.
The Deer Park platform and ramp were demolished and the site re-graded.
New training materials were prepared and an initial recertification training conducted for existing Brakeman.
A State of California DOSH/PAR inspection and certification of our track and operating train was completed. This is a new process for the Museum and has required many changes to our operations (air brakes, additional safety equipment, additional documentation, additional training, etc.).
AND we still have a lot of work going on--
Flatcar NS 1725 is being refurbished/repaired for operations in 2018.


Significant termite damage has required replacement of both end beams.

Some termite damage is being repaired on a side sill.

Parts of the deck need to be replaced due to wear.
New loading gates are being placed on both sides and new gates built.
The existing torn and 'rotting' canopy roof has to be replaced with a new one.
The existing passenger benches need to be repaired and reinstalled.
Air brakes need to be refurbished and tested.
The existing SAM link and pin couplers will be swapped out for knuckle couplers.


The siding and switches at Deer Park are being relaid with new ties and ballast. The siding is also being shortened.
Siding 5 in the yard has been laid and is awaiting ballasting, the Frank Yards passing siding has been laid out.
Restoration continues on Caboose NWP 6101.
Our first mechanical engine (ASARCO 4 a1939 Whitcomb 12 ton diesel that we originally got from Paramount Great America) has returned after being sold. It is getting a full rebuild after spending 10 years on Kauai and at Roaring Camp. We hope to have it in service for this year. This engine is leased from Rother Locomotives.
Operations:
2018 Operations are in full swing-- Passenger trains run on Thursdays, Fridays, Sundays, and on special event days.
Restoration:
Current cars in active restoration are boxcar SPC 472, flatcar/picnic car NS 1725, and caboose NWP 6101.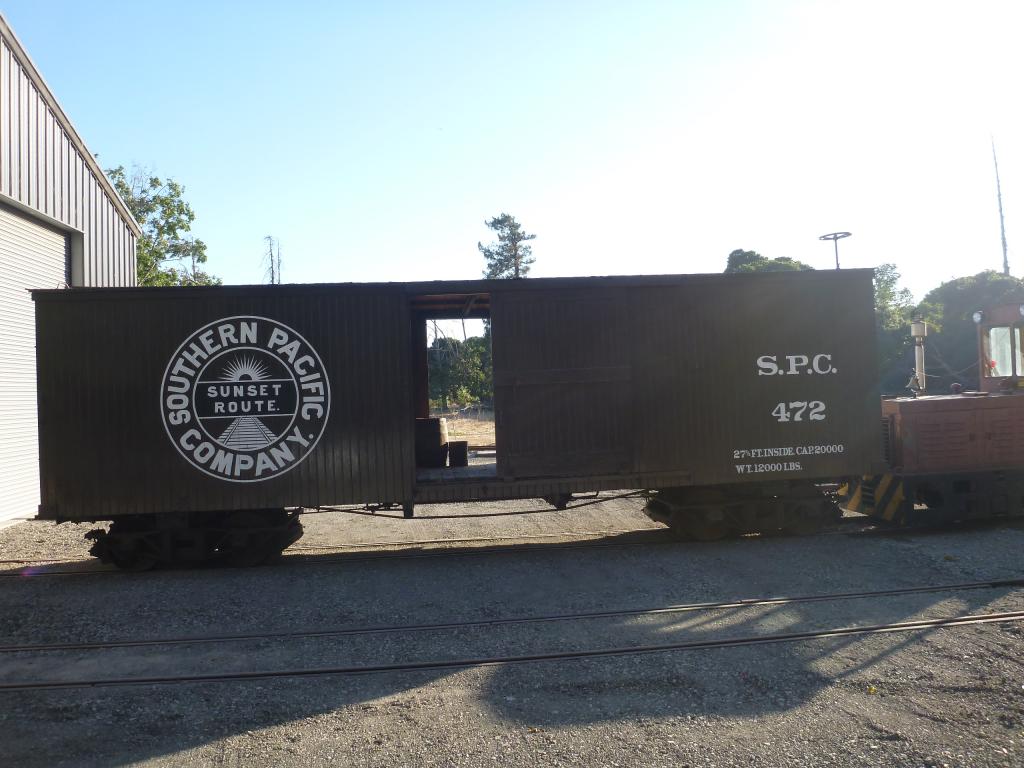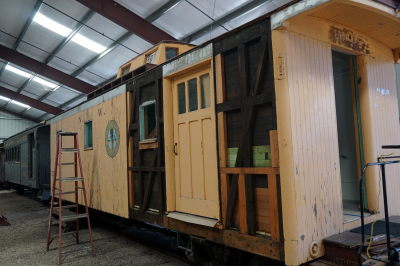 SPC 472 has had it's buffer blocks replaced and plans are in progress to replace the roof.
Picnic Car NS 1725 is getting new end beams, railings, repaired seats, and a new cover. In addition, it's air brakes will be overhauled and couplers replaced.
NWP 6101 has had both bolster beams and needle beams replaced. Work is being done on the platforms and truss rods and underbody stabilzation is in progress.
Surveys are being made and restoration plans are being created for combination car SPC 47 and for boxcar NC 253. These plans are essential to understand how and what kind of restoration should be done to these extremely significant cars. SPC 47's survey is now in progress using archaeological techniques and has identified significant modifications to the layout of the car over the years.
Work days:
Scheduled workdays are typically the second Saturday of the Month. Informal workdays are held most Thursdays and many other Saturdays throughout the year. If you are interested in the informal workdays, ask to join the SPCRR_Members Yahoo! group or contact the SPCRR webmaster for more information of how to be alerted of them.
---
---