The South Pacific Coast Railroad
The South Pacific Coast Railroad was probably the most successful narrow gauge railroad in California history. Built by Comstock Lode millionaire James Fair (known variously as either "Slippery Jim" or "Sunny Jim") and his front man, Alfred "Hog" Davis, it ran from Alameda to Santa Cruz, a distance of 80 miles.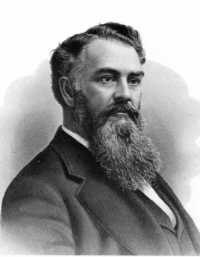 James Fair and Alfred Davis
The line was known for its high speed passenger service (the trip from San Francisco to Santa Cruz took three hours and 55 minutes including the ferry ride across the bay to Alameda). Freight consisted of redwood lumber and slaked lime from the Santa Cruz mountains, fruit from the Santa Clara Valley and Mountains, and explosives from the California Powder Works.
With only hand brakes and link and pin couplers, they routinely ran 50 car trains. The line had 5 branches, three of them powered by horses. One of these, the Centerville Branch, was located about a mile south of Ardenwood. The three mile long branch used horses as its only motive power for its entire narrow gauge history (1881-1909). Three round trips were scheduled daily long with extra trains for freight. Passenger equipment was a variety of city-style horse cars. Photos show freight trains of up to 7 cars behind three horses. This line has been recreated at Ardenwood Historic Farm by the Society.
The South Pacific Coast was purchased by the Southern Pacific in 1887, but few changes were made until the turn of the century. Scheduled to be standard gauged on April 18, 1906, the plans were interrupted by the great earthquake. The north end of the line reopened as a standard gauge railroad within weeks. The south end over the Santa Cruz mountains wouldn't reopen until May 1909. The 6,023 ft. summit tunnel had been sheared in half where it cut through the San Andreas fault.
Today much of the line survives. The scenic mountain section between Los Gatos and Olympia was abandoned in 1940 and the track was removed and a tunnel dynamited during WW II. The section through Alameda in was abandoned in the 1941. The rest of the northern portion of the SPC continues to be operated as part of the Union Pacific Railroad. The Santa Cruz, Big Trees & Pacific Railway operates from Olympia to Santa Cruz as a tourist railroad and common carrier.
---
For more information on narrow gauge railroads try: Pacific Narrow Gauge Railroads
---
---