North Shore Flatcar 1725 Conversion to a Picnic Car
For years we have talked about putting a picnic car roof onto one of our flats to provide summer shade for the passengers and crew. Thanks to a grant from George and Karen Thagard this became possible this year.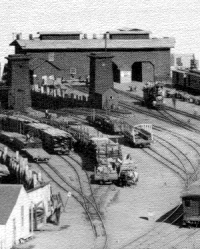 Detail from "NPC Sausalito Wharf 1892" San Francisco Martime Museum Collection

The prototype car is the unknown North Shore covered picnic car shown at the wharf in Sausalito in 1892 in the picture to the right. This particular car appears to be a flat car with benches similar to those we already have with a canvas top.

Our conversion involves:
Stripping the existing benches and sides off the car
Treating and repairing the deck
Putting on new stanchions, carlins, letterboards, side rails and a new gate
Fitting on the custom fitted 'canvas' roof
Refurbishing and remounting the benches
and later repainting and lettering the car



Bob Tupper leads the project to convert this car. It is expected to be in service by Opening Day 2003.
Click on the pictures below to enlarge: All photos by AJL Cary unless credited.
| | |
| --- | --- |
| First stage of construction. Each of the stanchions had to carved to fit the stakepocket it resides in, painted and then the sawn carlins bolted to the after squaring. (Craig and Bob) The benches are unbolted but still on board. That is Ken Underhill barely visible to the right keeping it in line. | End of the days work: (Barbara Culp, Craig Hoefer, and Bob Tupper. Not in photo Ken Underhill) |
| | |
| Second stage of construction. Putting the sides on the car. It is a real challenge to keep things square. The gap in the sides on the far side is for the gate. Unlike the prototype this car has to load in the center. | |
Page last modified on Mar 18, 2003 11:11 pm by Andrew Cary using OpenOffice 1.02
Page best viewed using Internet Explorer or a Mozilla browser at 800x600 or better
© Society for the Preservation of Carter Railroad Resources 2003