Current Activities - Winter/Spring 2017
Trains are not operating until April 2017
Ardenwood Farm Region Preserve is open as open space from the 3rd week of November to the first weekend in April. This means there are no scheduled activities (which includes the train!). There is a parking fee. It is VERY muddy....
What the Railroad Museum does during this time is car and track maintenance. Typically these activities are closed to nonmembers and staff.
This year we have a lot of maintenance going on--
Flatcar WS 222 is being refurbished.
The mainline and siding at Deer Park is being relaid with new ties.
Siding 5 in the yard was laid.
Restoration continues on Caboose NWP 6101.
Our first mechanical engine (a 1939 Whitcomb 12 ton diesel we originally got from Paramount Great America) has returned after being sold, getting a full rebuild and spending 10 years on Kauai and at Roaring Camp. This engine is going through another needed rebuild and we hope to have it in service for this year. This engine is leased from Rother Locomotives.
This rather wet winter has seen a significant number of Ardenwood's Blue Gum (Eucayptus) trees fall. Unfortunately some of these have landed on our track and facilities which have required us to clear them.

Operations:
2017 Operations for the public start in April and will continue until November 2017. Passenger trains run on Thursdays, Fridays, Sundays, and on special event days.
Restoration:
Current cars in active restoration are boxcar SPC 472 and caboose NWP 6101.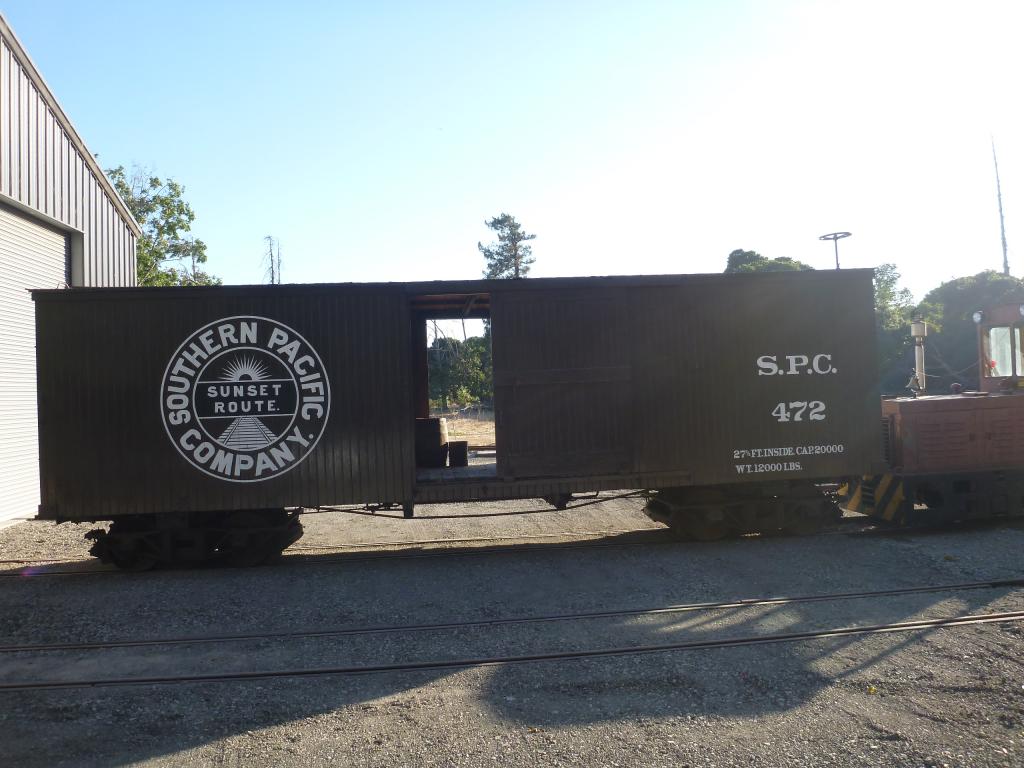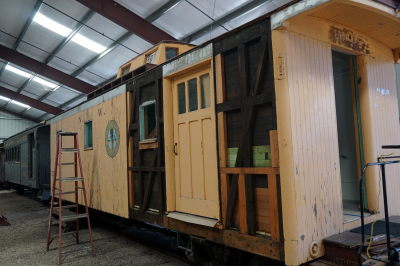 SPC 472 has had a condemned buffer blocks replaced and plans are in progress to replace the roof.
NWP 6101 has had the plywood siding removed and a resurvey is taking advantage of access to the framing so that new drawings made before restoration can be restarted.
Both bolster beams and needle beams have been removed and replacements are being made. The air brake cylinder and piping has been removed and underbody stabilzation is in progress.
Surveys are being made and restoration plans are being created for combination car SPC 47 and for boxcar NC 253. These plans are essential to understand how and what kind of restoration should be done to these extremely significant cars. SPC 47's survey is now in progress using archaeological techniques and has identified significant modifications to the layout of the car over the years.
Winter work days:
See the 2017 Calendar for scheduled workdays (typically the first Saturday of the Month). Informal workdays are held most Thursdays and many other Saturdays throughout the year. If you are interested in the informal workdays, ask to join the SPCRR_Members Yahoo! group or contact the SPCRR webmaster for more information of how to be alerted of them.




`© Society for the Preservation of Carter Railroad Resources, Inc. 2017
Last Modified by Webmaster on

28Feb2017 2058h